Buddy Levy

Buddy Levy

is the author of seven books and his work has been featured or reviewed in

The New York Times

,

The Wall Street Journal

,

USA Today

,

The Washington Post

,

The Washington Times

,

Kirkus Book Reviews

,

Publisher's Weekly

,

Booklist,

and

Library Journal

...

read more
No Barriers: A Blind Man's Journey to Kayak the Grand Canyon

by Erik Weihenmayer and Buddy Levy

NOW AVAILABLE IN PAPERBACK!2018 Colorado Book Awards finalist in Creative Nonfiction, and National Bestseller and Honorable Mention Award Winner in the Outdoor Literature category of the 2017 National Outdoor Book Awards (NOBA) — "A beautiful book about family and finding a way to achieve more than you ever thought possible." —Brad Meltzer, NYT bestselling author

Erik Weihenmayer is the first blind person to summit Mount Everest, the highest point on Earth. Descending carefully, he and his team picked their way across deep crevasses and through the deadly Khumbu Icefall; when the mountain was finally behind him, Erik knew he was going to live. His expedition leader slapped him on the back and said something that would affect the course of Erik's life: "Don't make Everest the greatest thing you ever do."

No Barriers

is Erik's response to that challenge. It is the moving story of his journey since descending Mount Everest: from leading expeditions around the world with blind Tibetan teenagers to helping injured soldiers climb their way home from war, from adopting a son from Nepal to facing the most terrifying reach of his life: to solo kayak the thunderous whitewater of the Grand Canyon.

To order, click

here

.
---
---
Told in the style of

The 48 Laws of Power

, this compelling and inspiring book examines Geronimo's leadership approach and the timeless strategies, decisions, and personal qualities that made him a success. Raised in an unforgiving landscape, Geronimo and his band faced enemies better armed, better equipped, and more numerous than they were. But somehow they won victories against all odds, beguiling the United States and Mexican governments and earning the respect and awe of those generals committed to hunting him down.

To purchase, click here.Now available in paperback

!
Praise for Geronimo:

"Geronimo is a wonderful study of character and power: getting it, wielding it, keeping it."
-- S. C. Gwynne, author of Empire of the Summer Moon

"A compelling book that humanizes a man many misunderstood. A great read."
-- Brian Kilmeade, author of NY Times Bestseller George Washington's Secret Six

"Mike loves the will of man: the underdog, the warrior, and the one who does more with less. He knows greatness comes with sacrifice, and it starts with knowing yourself. In Geronimo, he shares the character of a true American badass who exemplified all of these things—and he shows how that character can be put to practice in the game we're all in: the game of life."
-- Matthew McConaughey, Best Actor Academy Award winner for Dallas Buyer's Club


---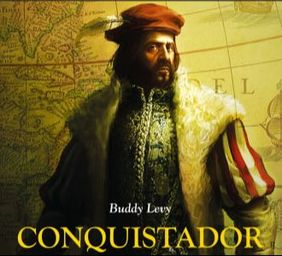 Overbrook, Motor Option Amazon Bestseller 'Conquistador'; Limited Series Planned
​To read the full article, click
here
.
---
---
From the acclaimed author of

Conquistador

comes this thrilling account of one of history's greatest adventures of discovery. With cinematic immediacy and meticulous attention to historical detail, here is the true story of a legendary sixteenth-century explorer and his death-defying navigation of the Amazon—river of darkness, pathway to gold.

Overflowing with violence and beauty, nobility and tragedy,

River of Darkness

is both riveting history and a breathtaking adventure that will sweep readers along on an epic voyage unlike any other.

To purchase, click here.
Praise for River of Darkness:

"River of Darkness immediately takes its place as the definitive book on one of the great voyages into the unknown of all time, Orellana's accidental first descent of the Amazon. Not only is it a solid contribution to the scholarly literature on Amazonia, but it is a riveting and irresistible read, narrative history of a literary quality rarely encountered that compares with Alan Moorehead's great books on the Nile. Bravissimo !"
-- Alex Shoumatoff, author of In Southern Light, The Rivers Amazon, and The World is Burning

"In River of Darkness, Buddy Levy proves that the scariest stories are the true ones. Filled with fascinating details and the terror that comes with exploring something for the very first time, this is history coming back to life."
-- Brad Meltzer, best selling author of The Book of Fate and The Inner Circle

"Buddy Levy is one of those rare and gifted authors whose books are virtual time machines that effortlessly transport us back through centuries. In River of Darkness, we participate in one of history's signal explorations, Francisco Orellana's descent of the Amazon River. We see blood, smell smoke, hear screams of joy and agony. Levy's impeccably researched book is at once harrowing adventure and revealing history. Better than any in recent memory, River of Darkness sheds new light—and reveals the darkest aspects—of the Conquistadors' brave and bloody New World forays."
-- James M. Tabor, author of Blind Descent: The Quest to Discover the Deepest Place on Earth